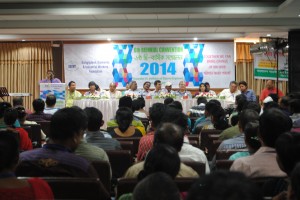 At the recent, Bangladesh Garment and Industrial Workers Federation (BGIWF) annual convention, the theme reverberating among the speakers and among the worker audience was the importance of unionization. One worker-organizer remarked: "There are three things we must do: educate, organize and demonstrate." However, what was equally clear from their speeches was that unionizing workers in Bangladesh is not an easy task.  Almost every trade union organizer that I interviewed had their own story of being harassed, beaten by police or factory hooligans frightening them or the workers they were organizing from forming unions, including the story of Hasina Akter.   The high profile murder of labor organizer Aminul Islam in 2012 allegedly by the National Security Intelligence (NSI) of Bangladesh reveals the severe constraints under which organizers seek to improve workplace conditions.
Labor leader Nazma Akter, founder of Sommilito Garments Sramik Federation, in an earlier interview spoke to me about sexual harassment from owners, or their managers, and sadly, at times from fellow male organizers. Since much of organizing work requires meeting with workers after work, or in the streets in front of their factory, owners try to disparage the reputation of female organizers by calling them "bad women" or "prostitutes."
The challenges to unionization explain the paltry number of unions in an industry that boasts 4 million workers and over 3500 operative factories. In just last two years alone, 200 unions registered.   But, in contrast, only 2 unions were registered in 2011 and 2012. They formed in part due to changes in labor law, international community's focus on Rana Plaza, and the suspension of trade benefits by the United States. While BGMEA industry representatives told me that garment owners are not opposed to unions, however, this fails to explain their strong opposition when workers do attempt to organize. This opposition was recently shown in the unionization efforts by workers in Designer Jeans.
In 2010, the current government created a separate Industrial police in most police precincts to regulate, squash unions, and to prevent union leaders from organizing. The collusion of the police, state with industry interests to prevent unionization makes these organizing efforts a monumental task, and therefore any bit of success a huge achievement. Recent examples of Tuba Group workers being attacked by police with tear gas and rubber bullets reveals the role that police and the state play in preventing unionization, and the violent manner in which labor demands are responded to. Kalpona Akter, Executive Director of Bangladesh Center for Worker Solidarity, reminded workers at the convention that they are fighting two powers: government and owner, so workers need to organize harder.
While the global attention has been on garment workers, there are similar patterns of discouraging unions in other sectors, notably the rising technology sector. Grameen phone union organizer remarked, "Whatever industry we are in, we are all same." Accenture Employees Union president commended garment worker organizing, and said at the convention, that they are learning from the organizing that is happening in the garment industry." Ibrahim Hossain remarked: "Many think we are not workers because we work in the IT industry, and they try to divide us. We have only one title: worker."   In his speech, you can hear the same theme of the immense challenges of unionization. He says, "Unionization is not easy. Most workers who organize often find themselves out of work." They registered their union just recently in July 2014.
From a labor–management perspective, such a virulent response to organizing is short sighted and simply creates industrial unrest that disrupts owner's own economic interests.   In many ways, employers' benefit more from unions in that they have one entity with which they need to bargain with workers. Unions were formed to equalize the bargaining power between employer and workers, but in practice, serve to maintain industrial peace and minimize industrial disruptions. Ultimately, workers give up the right to strike and seek redress for their grievances though a collective bargaining process which helps employers to maintain day-to-day functions of their business. While workers surely benefit in this process, employers have also much to gain from unions. In absence of a mechanism to redress basic grievances, workers have no choice but to demand their rights in the street. When workers take to the street, and if they do this for routine grievances, it only creates disruptions for the employer.
For Bangladesh, unions may help prevent another Rana Plaza, which the industry cannot afford to happen to crudely protect its economic interests if not concern for the welfare of fellow Bangladeshi citizens. Unions will be able to raise safety issues and bring those concerns to the attention of the factory owner before it becomes serious.
For a government that is so reliant on funds from this industry, which totaled $21 billion in 2012-2013, it is equally surprising how the government fails to see how addressing labor management relations is better for their own political and economic interests.  Instead, both owners and government respond reflexively against unions in some enlarged sense that they are giving up powers to workers, when they gain so much more in the process. Of course, unionization will not solve many issues that workers experience at the workplace, but it could minimize much of the disputes that seem factory level problems.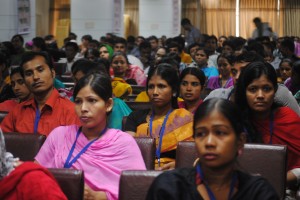 In an industry that is primarily women, unionization provides a vehicle by which women can seek empowerment, said Amirul Hoque Amin, president of the National Garment Workers Federation. Nomita Nath, president of Bangladesh Independent Garment Workers Union Federation (BIGUF), echoes this point that unions provides women a platform to assert their labor rights but it also helps them asserts their rights as citizens in society.
With all these benefits to women's empowerment, workers and even employers, it is astounding the Government of Bangladesh has not made a proactive effort to remove any and all obstacles to unionization. This is particularly surprising given its coveted economic relationship with United States hangs in balance for its failure to demonstrate any genuine progress on labor rights for workers, including their right to form trade union. Its time for a sophisticated and humane approach to labor-management relations especially when so much is at stake from worker's lives to country's economic interests.
Ms. Chaumtoli Huq is the Editor and Curator of Law@theMargins (lawatthemargins.com) a blog on law and social justice, and she is currently in Bangladesh on a nine month fellowship sponsored by the American Institute for Bangladesh Studies examining labor conditions in the garment industry. Follow her on twitter @lawatmargins