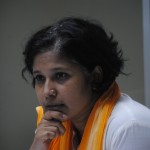 By Chaumtoli Huq, Editor and Curator of Law@theMargins
"Solidarity is what we want. We do not want to find fault with each other but to solidify our forces and say to each other: We must be together; our masters are joined together and we must do the same thing."  Mother Jones
Veteran actor and activist Kaiulani Lee brings her play Cant Scare Me: The Story of Mother Jones to Dhaka. Mother Jones was a well-known Irish American labor organizer who fought against child labor and to improve workplace conditions for American miners. That Lee brings her play on Mother Jones to Dhaka, after the Tazreen fire, and Rana Plaza tragedy, and in the context of on-going conversations on workplace safety, is both timely and instructive. Her life can provide some inspiration for those in Bangladesh who dedicate their lives to building a strong labor movement.
Mother Jones was a courageous and fearless organizer, who lent her voice to advocate for the rights of working families and their struggle. She was also an astute and strategic organizer. Suffering her own personal tragedies with the loss of her husband and four children to the yellow fever epidemic, she dedicated her entire life to fighting for workers' rights. She also was motivated by her faith as a Catholic, and her ideas can find deep roots in the Catholic social justice tradition. Mother Jones knew that faith and justice were powerful tools to mobilize workers.  She organized in the late nineteenth century during the time of the rise of the first corporate executives like JP Morgan, Carnegie and the Rockefeller and was publicly critical of the corporate elite. Hailed the captains of industry, she called them Robber Barons.
Watching the play, Can't Scare Me: The Story of Mother Jones in Dhaka and researching the labor movement in the garment industry led me to ask the actor – what would Mother Jones do if she were alive today? Lee, responded that Mother Jones would be here in Dhaka working with the workers, organizing them and trying to help in any way she could.  I would add that given her understanding of how corporate elites oppress workers for profit, she would be rabble rousing against multinational companies and brands.  In her time, she travelled from state to state to fight for workers' rights, especially to end child labor. She would, as she often said, would "raise hell."
Listening to the struggles in which Mother Jones was involved, some lost, some won – unionization, child labor, wages, and workplace safety – you would think we were speaking of the same issues in Bangladesh.
Adding to my question, Lee asked folks during her visit: who is Bangladesh's Mother Jones?  She said that while some names were tossed about, no one name really stood out.
The response she received to her poignant question made me think about a question I have posed to labor leaders in the garment industry in Bangladesh on the strengths and weaknesses of the labor movement. The responses to what are its strengths varied, but responses on weaknesses were consistent in terms of a lack of unity. Lack of unity among social change activists is a common critique and should be understood in context of active efforts by institutionally dominant groups to divide them.   Nonetheless, it is a critique worth keeping in mind.   Mother Jones's quote above is a constant reminder to be solidified because the interests that work against labor are united.
If movement leaders work in a collaborative and collective fashion, I don't know that we need to search for a single Mother Jones in Bangladesh.   There may be many faces to this movement.  You can meet some here on my Facebook page.  Mother Jones as a icon for workers rights may be embodied in a strong cohesive labor movement. Perhaps, we should not be seeking the sole savior for the labor movement, but as Mother Jones advised, solidify forces and join together. Aptly, the common chant of Bangladeshi workers, Workers of the World Unite, seems appropriate.